According to recent statistics, chronic liver disease is the tenth leading cause of death among the adults of United States which accounts for approximately 25,000 deaths annually, i.e., 1 % of the total number of deaths. Some of the recent studies indicate that 40% of chronic liver-related diseases are due to the Hepatitis C Virus, resulting in an estimated deaths amounting to about 8000 to 10000 per year. According to the statistics and figures on the infected and mortality rates from all over the world, Hepatitis C is a severe disease to be dealt with, and it should be appropriately planned and executed to keep as many people safe as possible.
What Is The Government Trying To Do?
The government is trying to expand on its earlier recommendations of how to prevent the HCV infection that was focused on screening and follow-up of blood, plasma, organ, and tissues of the donors. The primary objectives of the programs are to:
Prevent the transmission of HCV
Identify, counsel and test persons at risk for HCV infection
Provide appropriate medical attention and evaluation to the affected persons
The United States government is trying to put up plans according to the prevalence of the HCV infection among the various selected persons and demographics in the country. It is trying to focus its area of interest in the manner in which the disease is transmitted to multiple individuals and the methods by which they can be minimized at the very least.
Strategies In Place To Prevent And Control Hepatitis C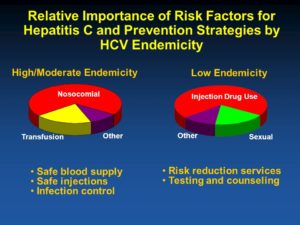 Hepatitis C virus has proved itself quite harmful to the people all over the world, especially the Americans, the United States government has taken few precautionary steps aimed at protecting its citizens against this virus.
Primary prevention steps
Proper screening and testing of the blood, plasma, organ, tissue and semen donors for any virus inflammation
Virus inactivation in plasma-derived products by keeping it under prescribed conditions
Proper counseling and services on risk-reduction
Proper implementation and maintenance of the infection-control practices
Secondary prevention steps
Identification, counseling, and testing of persons at risk of infection
Proper medical management of infected individuals
Survey and research to monitor the spread of this disease and the effectiveness of the drugs on them
Adequate professional and public education
The programs mentioned above have been effective in combating the virus but an overall effort from everyone needs to be taken.